Page 12 - The Venice Biennale 2001 issue of World of Art Magazine
P. 12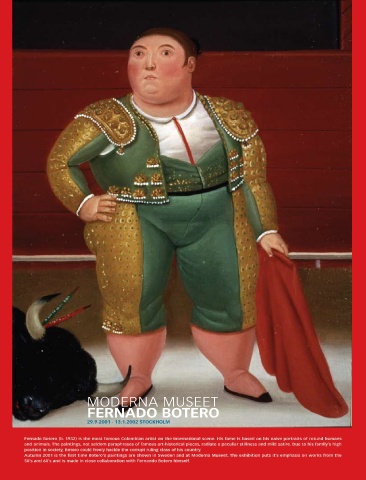 MODERNA MUSEET
                             feRnado BoteRo

                             29.9.2001 - 13.1.2002 stocKhoLM


         fernado Botero (b. 1932) is the most famous colombian artist on the international scene. his fame is based on his naive portraits of rotund humans
         and animals. the paintings, not seldom paraphrases of famous art-historical pieces, radiate a peculiar stillness and mild satire. due to his family's high
         position in society, Botero could freely hackle the corrupt ruling class of his country.
         autumn 2001 is the first time Botero's paintings are shown in sweden and at Moderna Museet. the exhibition puts it's emphasis on works from the
         50's and 60's and is made in close collaboration with fernando Botero himself.